HPE's rearranged Discover Virtual Experience begins in a couple of weeks – 23 June to be precise. The online event will feature a keynote speech by HPE CEO Antonio Neri followed by a wide range of breakout sessions and presentations, some of which are listed below.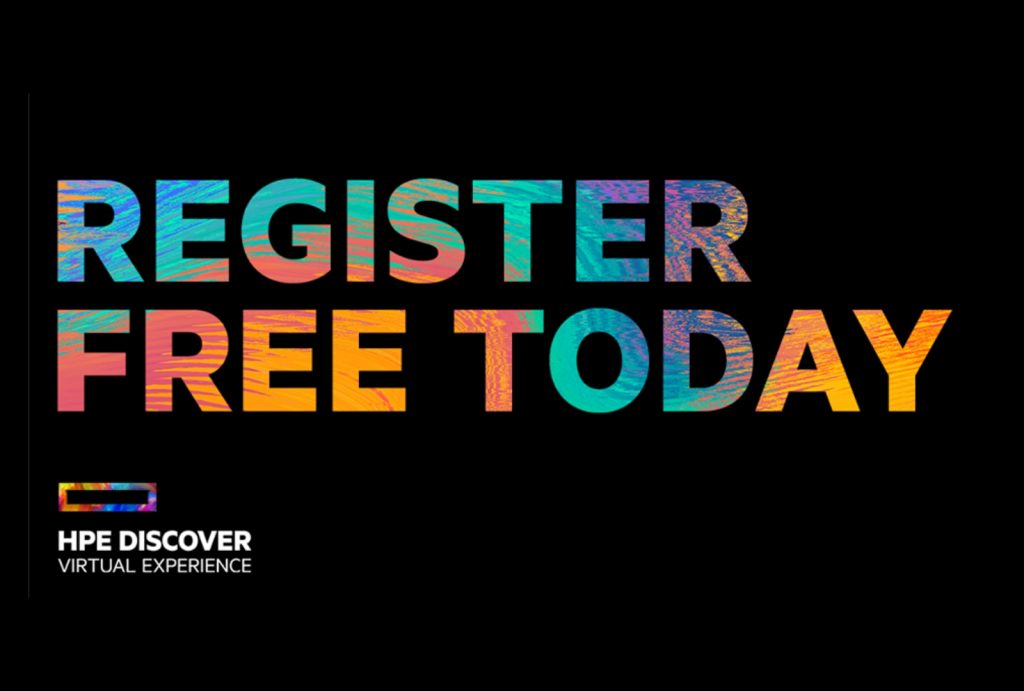 AMD EPYC: The New Leader for Your Data Center
The current business environment is very dynamic. AMD offers more security, more performance, better TCO that future-proofs your investment, protects your data and helps support your remote workforce. Join us to learn more about how AMD can help with your data centers.
Session ID B563 – On Demand
---
Bring the Cloud Experience to All Your Apps and Data, Now
The new wave of digital transformation is here, unleashing speed everywhere. The cloud experience (self-service, pay-per-use, scale up/down, managed for you) was previously only available in the public cloud. Now, it can reach all your applications and data to propel your business forward faster. Learn how the next generation of HPE GreenLake edge-to-cloud platforms bring unprecedented speed and agility on-premises. Accelerate your thinkers, makers and doers with IP and capabilities optimized for the as-a-service distributed cloud environment.
Speakers
Kumar Sreekanti, Chief Technology Officer and Head of Software Hewlett Packard Enterprise
Keith White, Senior Vice President and General Manager, HPE GreenLake
Session ID S477
Tuesday, June 23, 2020 09:00 a.m. – 09:30 a.m. US PT
---
Define Your Edge: Harnessing the Power of Data
This next decade will be defined by the explosion of data from users, devices and things. This data will be created not in the cloud or data center, but rather at the edge, where the physical and digital worlds intersect. This session will introduce new innovations in Aruba's edge-to-cloud architecture around connectivity, security and artificial intelligence designed to improve outcomes by unlocking value from all the data captured at the Intelligent Edge.
Session ID S568
Wednesday, June 24, 2020 08:00 a.m. – 08:30 a.m. US PT
---
Hack Shack: AI 101, Convolutional Neural Network (CNN) for MNIST
Whether its facial recognition or self-driving cars, CNNs are used everywhere. Join this hands-on workshop to learn how to implement a simple CNN for a Modified National Institute of Standards and Technology database (MNIST). Using an MNIST dataset (70,000 pictures of hand-written digits) you'll learn how to build a simple CNN and train it to solve a real problem with Keras (a deep learning library for Python.) On completion, you'll be able to predict a digit, given a picture of hand-written digits with 99% accuracy.
Session ID W485
Wednesday, June 24, 2020 08:00 a.m. – 09:00 a.m. US PT
Thursday, June 25, 2020 09:00 a.m. – 10:00 a.m.. US PT
Friday, June 26, 2020 10:00 a.m. – 11:00 a.m.. US PT
---
Hack Shack: API 101, API Basics and the Value They Provide
You may know that application programming interfaces (APIs) allow applications to talk to other apps, but have you ever used them? Today, APIs are available for most products and solutions. You can take advantage of them when writing automation scripts, integrating code or defining infrastructure-as-code, as long as you understand the mechanisms used to consume an API. In this hands-on workshop, we'll review all the jargon and technology used by REST APIs and show you how to place your first API call against a publicly available API.
Session ID W480
Tuesday, June 23, 2020 10:00 a.m. – 11:00 a.m. US PT
Wednesday, June 24, 2020 10:00 a.m. – 11:00 a.m. US PT
Thursday, June 25, 2020 12:00 a.m. – 1.00 p.m. US PT
---
Intel: AI Success With Systems That Move, Store and Process Data Anywhere
Enterprises are completing POCs and starting to plan for scale deployment of AI workloads. Learn deployment best practices from Intel, HPE and customers.
Session ID S546
Wednesday, June 24, 2020 09:00 a.m. – 09:30 a.m. US PT
---
Reimagine your entire tech estate
Now more than ever, organizations are demanding innovation and agility from IT. In order to be poised for better times ahead, reimagine how you value your entire tech estate. From edge, to cloud, to end user, your assets can contribute to your business and sustainability goals and fund new projects.
Session ID S376
Tuesday, June 23, 2020 10:00 a.m. – 10:30 a.m. US PT
---
For a full list of the presentations, Hack Shack sessions and other HPE Virtual Experience events, view the Content Catalogue here.