Ahead of its launch there, HBO and Framestore, who created the VFX for His Dark Materials have got together to build a new augmented reality (AR) iOS and watchOS app for US viewers – His Dark Materials: My Daemon. Custom animal-like manifestation of users' inner souls, which are created from the results of an in-app personality test, guide them on an immersive journey through the TV programme's fantasy world.
It is at heart a well-being app. Users are encouraged to engage in activities that improve mind, body and spirit health. Monitoring is performed by Apple Health and the app synchronises with Spotify as well as fitness, sleep and meditation apps. A user's own health, wellbeing and habits are reflected in those of the daemon. Users are able to unlock rewards and share their video and still image interactions with their daemons via social media.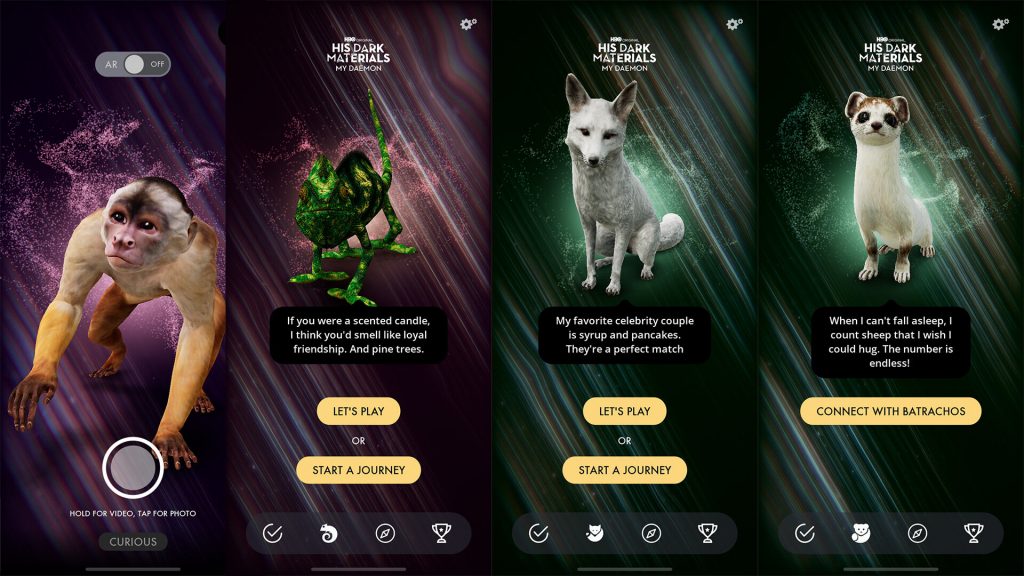 The high fidelity AR characters are created in Unreal Engine 4.
CONNECT WITH YOUR DAEMON
Tell your daemon how you feel and receive personalised activity recommendations.
PLAY WITH YOUR DAEMON
Let your daemon explore the world around you by capturing photos and videos and sharing them online.
JOURNEY WITH YOUR DAEMON
Follow in the footsteps of His Dark Materials characters by completing a series of curated activities that mirror experiences on the show, and interact with some of the main characters.
Click here to download the His Dark Materials: My Daemon app for iOS and Apple Watch devices.
Source: Animation World Network